The Art Of Luxurious Sleep
I hear the word bedtime and instantly start mesmerizing about the fact that our beds are our sanctuary. And some of us lucky people get to stay in bed the whole Sunday morning. While we like to stay that way in bed and sleep a bit longer, why not make that stay as luxurious and comfortable as possible.
Every day is a struggle and working the hectic routine through the highs and lows of our lives. When we get home from all of the day`s rush and exhaustion, the only thing that welcomes us with its arms open is our beds and sleeping into luxurious beddings and breathing all our troubles away. Generally, choosing the right bedding will determine how gracious your sleep is going to be. Getting sheets from a place that uses suitable materials and expert craftsmanship results in a longer life span of the product while keeping all habitat qualities alive.
To a certain extent, the term luxury is pretty subjective, and the view people have about this word is relative. However, while shopping for luxury beddings, one should keep in mind the quality of the fabric, such as cotton, percale weaves, and sateen. Being able to determine and understand the nature of each fabric can help you narrow down your choices from the wide variety of options available.
In today`s article, we will be covering our top 5 picks for the best luxury sheets in our opinion, and leave the rest of the decision on you. The guide will help you look for specific materials and craftsmanship while selecting the sheets for yourself. Hoping it would help you narrow down the right ones for yourself.
Brooklinen Heathered Cashmere Sheet Set
When it comes to the natural softness of wool, only a few fabrics can deliver on that promise. And Brooklinen cashmere sheets mixed with cotton in super soft diagonal sewing patterns to bedding a stylishly lived look do the job. People with sensitive skin prefer the smooth and vibrant feel of the sheets and pillowcases. Both the material used in the manufacturing of these stylish sheets possess cooling properties, so they should be suitable for people like me who start feeling hot when they get into the bed.
It comes in five different colors, and you can select the one that compliments your bedroom the most. The sheets can go deep 15 inches in the pockets. Hence, making it suitable for most of the beds that are sold and used nowadays. The set comes in 2 forms, the core, and hardcore, each covering the basics and some additional item in the hardcore option provided by the store.
The set comes with a warranty lifespan of 365 days, giving you an entire year to decide whether the selected sheets are the right fit for you. The company also covers the delivery cost in case of return.
Looma Sheet Set
Customers who like luxurious cotton beddings specifically designed to last longer than the usual cotton sheets with a premium vibe to it prefer looma signature sheets. The beddings are smooth in touch, and its 300 thread count makes it softer after each wash. So you don`t have to worry about the fabric wearing off with it. The whole set displays stylish sateen drapes and the one ply helps in keeping the mattress cool. It also features a matte finish look which might appeal to those who like the silkiness of the fabric but don`t prefer the shiny bit much.
It comes with 18 inch deep pockets, also known as the sheet, which is compatible with most mattresses of today`s time. It comes with free shipping and a lifetime warranty of the fabric. However, the company recommends that the shoppers wash it using cold water.
Brooklinen Classic Core Sheet Set

Suppose you love the sheets in a five star hotel. It admires the cool and crisp feature of it and doesn`t like paying a whole lot for a luxurious vibe and feel. Then, Brooklinen classic sheet set is the best affordable option. Quality and comfort is the motto of the Brooklyn Nyc, Company Brooklinen. This set of sheets brings a premium hotel experience to your homes. Its core set bundle comes with pillowcases, sheet sets, and duvet covers.
This bedding also comes with a perfectly breathable 270 thread count, perfect for sleepers like me who are restless in bed.
The bedding is specially crafted for an excellent and crisp feel with OEKO TEX certified chemical safety and 100% long staple cotton for a long lasting, luxurious feel. It also comes in a large variety of sizes, so you do not have to worry whether it will fit on your mattress or not, as you can order the desired one.
Frette Doppio Ajour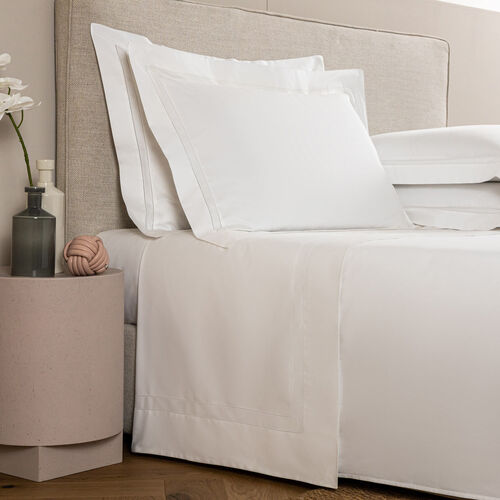 These frette doppio sheets are famously used in most hotels across the US, Italy, and Europe. Not just because the company has been manufacturing these for over a century now but because of their exclusive quality and luxurious feel. It has been termed as the best seller by many. The frette doppio features an open hemstitch on open soft cotton sateen.
With this bedding, you get luxurious, comfortable quality sheets with 200 years of luxuriant history. Available in single, double, and king sizes various subtle colors, which will complement most interior decors. It has also been featured in the beds of 500 European royals, and if it`s goods for royals, it should be adequate for us.
Malouf portugese flannel
Made explicitly for the colder months, the Heavyweight Portuguese Flannel Sheet Set by Malouf could be fantastic to see you through those crisp winter evenings.
Made in the factories of Portugal, famous for Port and for delivering a portion of the world`s best wool bedding these warming sheets include 100% brushed cotton for that super comfortable feel.
The solid fiber structure opposes pilling that troublesome bobbles that will generally show up on lesser quality textures, making for an enduring bed sheet. The smooth surface is incredible for holding warmth, making these sheets ideal for a promptly warm winter bed.
We have shortlisted the 5 sheets that we think are the best for people who like to treat themselves. But leaving it up to you to make the final selection or you can just buy them all. We are confident that you will find the quality and comforts of each set of sheets mesmerizing and durable.